Chair
Woody Bernhard is a retired carpenter. He is 71 years old. He was born in Lebanon, NH. and has lived in Southern Vermont since 1973. He spent his teens in Ireland and Spain. He has 3 grown children and lives with his wife, Susan, in Marlboro Vermont.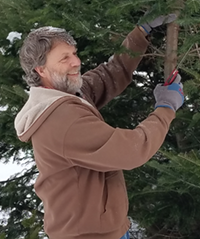 Vice Chair
Pieter van Loon is 56 years old. He was born and raised in South Newfane, Vermont. He studied forestry with Halsey Hicks at Marlboro College and is head forester with the Vermont Land Trust. Pieter has two grown children and lives with his wife, Rachel Boyden, in Marlboro, Vermont.


Treasurer
Nick Biddle is a retired professor of Latin American history who lives in Brattleboro and works with non-profits in Vermont and Ecuador. 

Secretary
Dr. Tamara Stenn is a professor of Economics and Entrepreneurship at Landmark College, an author, and specialist in Andean culture and sustainable development.  When not researching, writing or teaching, she enjoys swimming at South Pond, yoga and running the backroads of her rural Marlboro community.

Director
David Clift grew up in New York state.  He has a degree in Hospitality from Johnson and Wales University in Providence, RI.  He made a career change in 2005 and has been working as a Freelance Lighting Director for the last fifteen years.  He moved to Vemont in 2018 from South Florida with his wife, Michele.  He spends his time hiking, biking, canoeing, gardening, and most recently beekeeping.